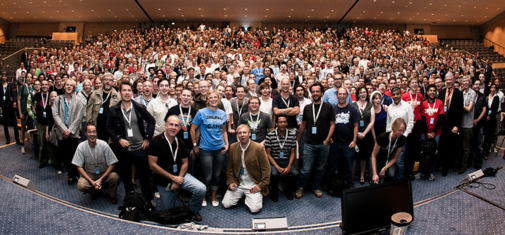 After an unsuccessful attempt to attend the San Francisco DrupalCon back in April due to erupting volcanoes, I was fortunate enough to be able to attend the next one in Copenhagen in August. I spent a week in the beautiful city of Copenhagen amongst the cyclists and the Vikings! The conference was held at the fantastic and environmentally-friendly Bella Center, just outside the city centre.
This conference saw both new and familiar Drupal community members host sessions on theming, security, multi-site management, high-load management, large or upcoming modules, and multi-lingual management. The main focus, however, was on the new version of Drupal (Drupal 7) which they hoped to launch soon. There were many interesting sessions about the changes between Drupal 6 and 7, with the main focus on the new user interface and usability, as well as some theme improvements. Particularly important and exciting were the keynote speeches by the creator of Drupal, Dries Buytaert; Rasmus Lerdorf, the creator of PHP; and Jeremy Keith, the author of "HTML5 for Web Designers". The keynote speeches for this conference were thoroughly enjoyable and for those of you who are interested, are well worth watching at http://drupalradar.com/data/event/drupalcon-2010-copenhagen.
Most of the major modules are well underway in having a full version ready for the release of Drupal 7. However the core itself is taking longer than expected to be fully released. The Drupal community want to have all critical issues resolved first, as well as many of the high-priority fixes completed, but the task never ends as more and more people use it and discover issues. One of the activities that took place outside the conference was a "code sprint", to try and reduce the number of outstanding bugs during the conference. Drupal 7 release date is literally any day now with just 1 bug left, although I cannot see Andalucia Web Solutions using Drupal 7 for several months until all has settled down. Don't worry if your site is currently in Drupal 6, it will still have an active community for quite some time to come. However those of you who have a Drupal 5 website and intend to make improvements in the near future should consider at least upgrading to Drupal 6.
Andalucia Web Solutions prides itself on keeping our team constantly up to date with advances in Internet Technology, so that we as a professional web development company, can pass on this invaluable knowledge to our clients.