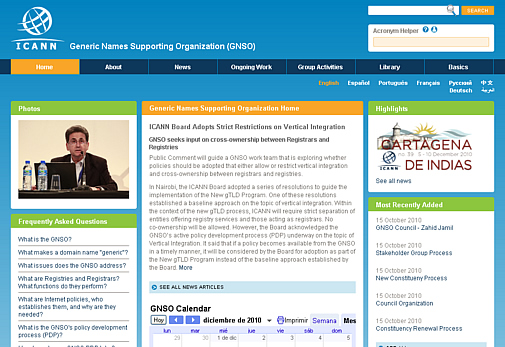 Andalucia Web Solutions has just presented their latest Drupal web design contract to ICANN, the Internet Corporation for assigned Numbers and Names, at their 39th public meeting in Cartagena de las Indias, Colombia. The brief was to redesign a major part of the website of this California-based organization that oversees the Internet.
The section of the ICANN website which Andalucia Web Solutions redesigned is for the GNSO, Generic Names Supporting Organisation. This is the organization that supervises the issue of the .com, .net, .org, .info domain names, and is currently working on numerous policy development processes to improve the allocation of this name space.
ICANN decided that the best platform for their website requirements is an open-source content-management system called Drupal. AWS Head of Technical William Eaton stated, "Drupal is a very powerful platform, especially in this web 2.0 Environment. We have been specializing in Drupal for three years and it is growing ever more popular."
One of the interesting international aspects of this design is that it will encompass the six United Nations languages: English, French Spanish, Russian, Chinese and Arabic, as well as Portuguese.
As AWS Managing Director Chris Chaplow said, after the presentation to the GNSO Council and other interested members of the community, "We are very pleased to be helping the internet community by redesigning the GNSO website for this very important organization. The new website will make finding policy development information much easier."
You can download the presentation from the ICANN website at:
http://cartagena39.icann.org/meetings/cartagena2010/presentation-gnso-refresh-05dec10-en.pdf
and listen to it on the ICANN website at:
http://audio.icann.org/meetings/cartagena2010/gnso-working-4-05dec10-en.mp3
From 6min 15sec to 29 min 00 sec